Joe Myers Kia is enthusiastic to be the foremost site for the Kia Sedona in Texas. Joe Myers Kia is a Houston Kia dealership and carries a huge inventory of New Kia Sedona and top quality, high value used Kia Sedonas and other cars & trucks.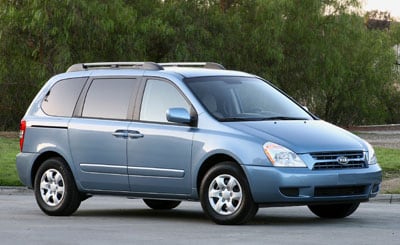 When consumers compare the Kia Sedona to other makes like the Toyota Sienna, Honda Odyssey, Mazda Mazda5, and Volkswagen Routan, the 2012 Kia Sedona shines as the most fun-to-drive. Starting with the 2011 Kia Sedona, owners found this affordable Minivan's crisp handling and lively acceleration to be reason enough to choose.
You'll like the Kia Sedona minivan when you shop at Joe Myers Kia in Houston
Your family deserves the best, so why not treat them to the new 2011 Kia Sedona? Packed with a comprehensive list of standard amenities and safety features, the Sedona takes the cake for value and quality. The Sedona has an affordable MSRP of 24,495 and adds a plethora of convenience features that would cost you thousands extra in the Toyota Sienna, Honda Odyssey, Mazda Mazda5, and Volkswagen Routan. Just last year Edmunds.com named the Kia Sedona as one of the "Top Recommended" vehicles for 2010. The 2011 Kia Sedona returns with the distinction of being the "Best Minivan for the Money" by U.S. News & World Report. Kia Sedona also ranked 4th in the "20 Least Expensive 2009 Vehicles to Insure" list by Insure.com, making it an overall great buy for families on a budget. The 2011 Kia Sedona is available with add-on features from a Premium Entertainment Package, a Luxury Package, and a Navigation Package, so stop by Joe Myers Kia in Houston and build your Sedona today.
The Kia Sedona, known under various nameplates worldwide as the Kia Carnival, was introduced for the 2002 model year in North America. The Sedona minivan was initially available with a 3.5 liter V6 engine and a 5-speed automatic transmission. Early Sedonas were reasonably priced but lacked some of the extras of well-known minivans like the Toyota Sienna and Dodge Caravan. In 2005, Kia addressed this issue with a redesigned Sedona that made the competition shake in their wheel wells by adding extras comparable to its contemporaries. Newer Sedona's highlight Kia's new corporate grille, known as the Tiger Nose ? Peter Schreyer, Kia's Chief Design Officer said, "The Kia concept in 2007 was the first car that introduced our distinctive new grille ? the 'Tiger Nose' as it's now known. When we started on this tiger nose, I wanted a powerful visual signal, as seal, an identifier. The front of a car needs this recognition, this expression." As the Sedona has increased in popularity, it's certainly become more recognizable on Houston area streets. Kia announced plans to cease production of the Carnival/Sedona in 2011, so get to Joe Myers Kia and test drive a new or used Kia Sedona before it's too late!
The Kia Sedona is available in two Trim Levels for the 2011 model year: the Sedona LWB LX and the Sedona LWB EX. Joe Myers Kia in Houston has brand new Sedona minivans in stylish colors like Claret Red, Cashmere Beige, Glacier Blue, and Midnight Black.
Safety is priority number one with Kia; the National Highway Traffic Safety Administration gave the 2010 Sedona 5-stars for front impact and side impact crashes, as well as a 4-star rollover rating. New 2011 Sedonas continue Kia's tradition of class-leading safety with driver and passenger airbags, dual advanced front and front seat-mounted side air bags, full-length side curtain airbags, ABS and EBD, and Electronic Stability Control and Traction Control. If you're looking for a safe, reliable minivan for Houston area commutes, look no further than a new 2011 Kia Sedona from Joe Myers Kia.
Both Kia Trim Levels feature a new 271-horsepower V6, and a smaller, yet more powerful and efficient 3.5 liter engine that achieves 18/25 mpg city/highway. Kia is breaking the mold with a new standard automatic transmission with a Sportmatic clutchless shifter that provides the Sedona with surprisingly quick and nimble handling dynamics. Kia Sedona reviews praise this new, more powerful engine and standard automatic transmission as a big leap forward in Kia minivan production. Browse Joe Myers Kia's large selection of new Kia Sedona minivans that your whole family will love.
The 2011 Kia Sedona LWB LX is packed with functional and convenient standard features like: SIRIUS Satellite Radio, an AM/FM/CD/MP3/SAT audio system with a USB/MP3 jack, a Bluetooth wireless system, air conditioning, sliding doors, powered doors, locks, and windows, cruise control, a back-up warning system, and keyless entry. Joe Myers Kia in Houston is proud to have a base model minivan like the 2011 Kia Sedona LX that carries such an impressive list of amenities at such a reasonable price! Visit us today for Kia incentives and Kia financing that fits your budget.
The top of the line Kia Sedona LWB EX adds: fog lamps, 6 and 4-way adjustable driver and passenger seats, heated power mirrors, an eight-speaker audio system, a leather-wrapped steering wheel, an auto-dimming rear view mirror with Homelink, a trip computer, and a handy roof rack. The Luxury Package for the 2011 Kia Sedona EX from Joe Myers Kia adds a sunroof, leather upholstery, heated front seats, power-adjustable pedals, driver-seat memory, and tri-zone automatic climate control.
All 2011 Kia Sedona minivans come with America's Best Warranty featuring a generous 10-year/100,000-mile powertrain warranty and a 5-year/60,000-mile limited warranty, so what are you waiting for? Drive a Sedona from Joe Myers Kia today.
The reasons why the Kia Sedona is good enough to be your prized minivan in magnificent Texas
Joe Myers Kia offers the Kia Sedona, a 4-door Minivan which seats 7 people comfortably. The Sedona weighs 4,387 pounds, is 202 inches long, 78.1 inches wide, 69.3 inches high, and the Kia Sedona's turning radius is 19.8 feet. surprisingly spacious for its class, the Sedona has 40.9 inches of headroom in the front, as well as 41.7 inches of legroom. In the Sedona's back seat, there are 39.8 inches of headroom and 40.9 inches of legroom. Need to bring a lot of luggage on your next trip? The Sedona trunk holds up to 32.2 cubic feet of your stuff. So, take a breather and enjoy!
Standard Kia safety features included in the Sedona are: traction control, anti-lock brakes, side airbags, driver airbags, side-impact bars, seat-belt pre-tensioners, and passenger airbags. With all of these features, the Kia Sedona is always tremendously rated by the IIHS and NHTSA.
The Sedona also has an abundance of comfort and convenience features including: power steering, remote locks, power windows, power mirrors, climate control, cruise control, air conditioning, power seats, an adjustable steering wheel, and more! Especially convenient are the available hands-free phone and navigation systems. Test drive the Kia Sedona in Houston at Joe Myers Kia.
Like all Kia cars & trucks, road handling and performance are top priorities for the Sedona. Passing horsepower in the base Sedona is 192 bhp @ 3800 rpm, and it produces excellent torque - 310 ft lb @ 1800 rpm foot pounds/rpm. The Sedona accelerates swiftly from 0 to 60 mph in just 6.7 seconds. If you want to go fast, the Sedona has a top speed of 122 miles per hour. Despite this excellent power train output, the Kia Sedona's fuel economy is rated at 18 miles per gallon in the city and 25 highway miles per gallon. With a fuel tank capacity of 16.5 gallons, the Sedona cruising range is well above average, truly making it a performance car!
The Kia manufacturer's warranty covers the Sedona for manufacturing defects and has a 5 Years / 60,000 miles Kia warranty. Kia has worked for years to minimize its environmental impact, and the Sedona's carbon footprint is rated very low. Not surprisingly, with all of these Sedona advantages, this great Kia Minivan retains a high percentage of its value at 3 years and 36,000 miles, which makes the Kia Sedona a great used buy!
When seeking a safe, economical, sporty and stylish Minivan, Houston consumers should head to the Kia dealer of choice, Joe Myers Kia at 16484 NW FWY (Hwy 290 & Beltway8) in Houston Texas.
Kia Sedona service information for Houston
Kia Sedona owners and lessees in Houston have found that Joe Myers Kia at 16484 NW FWY (Hwy 290 & Beltway8) in Houston is the very best choice for Sedona warranty work, regular maintenance & inspections, and mechanical repairs. At Joe Myers Kia, Certified Kia Technicians trained in the very latest diagnostic and corrective techniques work for only one thing - your complete satisfaction. Whether it's time for your Kia to have an oil change or tire rotation, or if you need regular Sedona Scheduled Maintenance, Joe Myers Kia is your first choice. Wheel alignments are another specialty of our Certified Kia Techs, and here at 16484 NW FWY (Hwy 290 & Beltway8), we are the smartest choice in Houston for quick, courteous, and professional Kia Service of all kinds.
If you'd like to make an appointment to have your Sedona serviced, click the link or just give us a call. See you soon.