Houston Kia Dealership Reviews the New Forte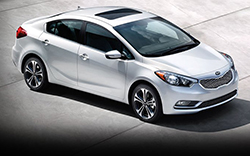 A compact car is a lot like a long-time best friend: you can count on it to get you where you need to go without any hassles and you can bet it's pretty comfortable and enjoyable to ride with. Add in the aspects that make life easier like standard features and top-notch efficiency, the metaphor lives on. Of course, if you're asking us, there's no best friend quite like the 2016 Kia Forte in Houston. Not only does the Forte have all of the traits you're looking for in an everyday car, it is also available in a hatchback variant for extra fun and plenty of utility.
When checking out the 2016 Kia Forte sedan in Houston, it's hard not to love the spacious cabin that pairs alongside everyday capability. Powered by a 145-hp 1.8L four-cylinder engine, the standard Forte LX runs with a power comparable to larger sedans, while also providing the efficiency compact buyers expect. Adding to the LX's powertrain, the base model also includes Bluetooth wireless connectivity, a remote keyless trunk opener and 14.9 cubic feet of cargo capacity. Upgrading to the EX adds a 6-speaker audio system, a 4.3-inch rear camera display and an impressive 2.0L four-cylinder engine rated at 173 horsepower.
Borrowing the 2.0L four-cylinder for its own standard LX, the 2016 Kia Forte5 puts a spunky twist on the classic sedan. In fact, our 2016 Kia Forte review is especially excited about the sporty hatchback that adds energy and liveliness to the compact segment. Like its sedan sibling, the Forte5 is available in LX or EX trims, as well as a sporty SX model. Packed with a turbocharged 1.6L I-4, the agile SX boasts 201 horsepower for zippy sprints through town.
Interested in learning more? Check out the rest of our 2016 Kia Forte review below to compare the Forte to other compact rivals or to see the full specs for yourself. Then, come see us in Houston and let us help you find a Forte that is right for you!