Much to the delight of consumers, the Sportage, which is a popular SUV from Kia, gets a redesign for the 2022 model year that brings a fresh look and some new features to the popular vehicle. The Kia Sportage has some upgrades and enhancements to its exterior for a contemporary and stylish new look this year. There is a new trim level in the family called the Nightfall Edition. There are a variety of optional amenities that you can order to enhance the performance and convenience of your Sportage.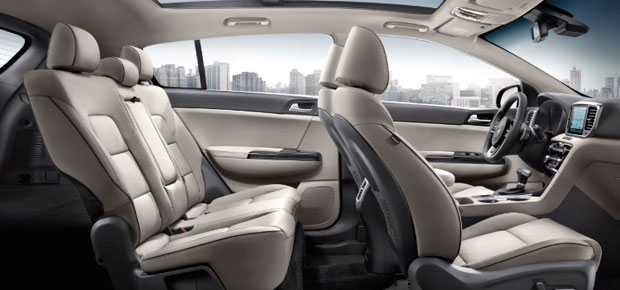 One of the biggest updates for the Kia Sportage in the 2022 model year is the arrival of the Nightfall Edition. The Nightfall Edition brings a stealthy look and some interior upgrades to the Kia Sportage lineup. The Nightfall Edition has a stunning blacked-out exterior with black detail from the ground up. The Nightfall has dark wheels and a black front grille that contrasts nicely with whatever paint color you decide to get. On top, black roof rails add to the Nightfall's sleek look and give the SUV more cargo capacity. Black badges are another welcome addition to the Nightfall, which also has LED headlights and fog lights with black surrounds. The Nightfall Edition also has piano black trim molding on the bumpers, skid plates, and side sills. Inside, the cabin is equally upscale and sporty with synthetic leather seating material and a sporty flat-bottom steering wheel.
There are four trims available for the Sportage in 2022. The base trim is still the same, which is the LX, followed by the new Nightfall Edition, the EX, and the SX. With the LX comes an eight-inch touchscreen that includes Android Auto and Apple CarPlay smartphone compatibility. You will get a privacy glass in the rear and a USB port for convenience in the front. The Nightfall Edition brings some new features and design changes to the second trim level for those who want a bit extra. Upgrading to the EX means you'll get standard 18-inch alloy wheels. Glossy black interior trim accents are added to this trim level, which also has a keyless ignition system. The front seats are heated, and the EX adds another USB port to the back row. The EX also has a leather steering wheel. The top of the line for the Sportage is the SX Turbo. The SX Turbo adds wireless charging capabilities and even larger 20-inch wheels. A sport-tuned suspension system is also included. This year, you can get all-wheel drive for any trim and add a power liftgate as well.
Contact us to learn all about the 2022 Kia Sportage today.