Learn More About the New Forte From Joe Myers Kia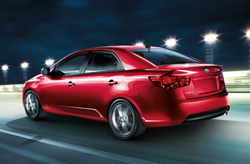 You can find a complete 2013 Kia Forte review below the video. With the help of automotive writers, Joe Myers Kia put together some of the finestKia Forte reviews you'll find on the web. As you read this article, you'll see that it is packed with essential data on all of the things you'r looking for in the new Forte. Is the Kia Forte right for you? Read on and find out!
Video Review of the Kia Forte
Specs & Features Bullet List
When comparing the 2013 Kia Forte to the 2013 Honda Civic, Toyota Corolla and the Ford Focus, and you'll discover that the Forte outperforms those autos in numerous aspects. Get a load of just a few of the reasons below.
2013 Kia Forte Body Style(s): sedan, hatchback, koup
2013 Kia Forte MPG: 25 city / 34 highway
2013 Kia Forte Seats: 5 passengers
2013 Kia Forte MSRP: $15,400
2013 Kia Forte Colors: Snow White, Titanium, Aurora Black, Crimson Red, etc...
2013 Kia Forte Cargo Space: 14.7 cubic feet
2013 Kia Forte 0-60 MPH in 8.2 seconds
Learn About the 2013 Kia Forte's New Features
Kia Forte Service Info for Houston, TX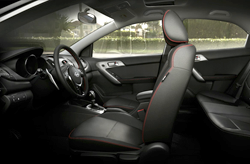 Don't look to a chain car repair shop in Houston when Joe Myers Kia's amazing Forte experts are only a quick ride away from where you reside. We also guarantee a 12-month warranty on our jobs - more than most chain shops do. Even the quality Kias in Houston can take a triumphing, so turn to the Kia service and autp repair wizards in Houston at Joe Myers Kia. We handle a gamut of jobs, including everything from quick oil changes and windshield wiper replacement to complicated duties like engine maintenance and more. For both complicated and easy to complete services, our Houston car repair center can manage everything; moreover Joe Myers Kia offers budget-friendly maintenance pricing. The link under this paragraph is your key to savings! Click now and you'll be taken to to our coupon specials page!