2015 Kia K900 Reviews from Joe Myers Kia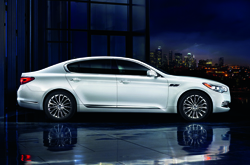 Kia enters against an established field of luxury sedans with its new full-size luxury car, the 2015 Kia K900. 2015 Kia K900 reviews paint a vivid picture of a muscular rear-drive luxury sedan brimming with leather, wood trim and electronics.
Inside, the cockpit is styled in supple Nappa leather. The cabin is attractive, quiet and lavishly appointed. Technology abounds, from the heated steering wheel to the stunning LCD instrumentation. A 9.2-inch navigation screen is situated in the center of the dash. The rear seats are roomy and comfortable. 
Test drive the 2015 Kia K900 on sale in Houston, and you will find a car that renders a comfortable and quiet ride The 420-hp, 5.0-liter direct-injected V-8 delivers smooth, powerful acceleration and the eight-speed automatic transmission shifts seamlessly. The handling is well positioned between the heavy sedans with their boat-like responsiveness and the bird-like agility of some sports sedans. Three choices in drive-mode settings remap the transmission's shift points and change the feel of the electric power steering. The suspension is well-damped and the K900 has traction and stability controls that provide comfort and confidence.
In addition to the standard safety features of airbags, anti-lock brakes and a tire pressure warning system, the K900 offers a bevy of electronic safety systems. These include optional adaptive cruise control and an advance collision warning system with last-minute automatic braking, blind-spot proximity warning, rear cross-traffic alert, and a surround-view system with parking guidance.
On some levels, a luxury car is a luxury car. The field is crowded with established brands, but the K900 also delivers at a price that leaves the competition in the dust. 2015 Kia K900 reviews say this is the car that will change Kia forever, extending the automaker's line into the top-tier of luxury cars. Kia's first luxury vehicle is a strong entry and indicates that they are in it to win it. See the all-new Kia K900 in Houston at Joe Myers Kia.