About Sedona Reviews for 2015 from Joe Myers Kia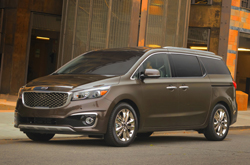 If I describe a vehicle to you with a 3.3-liter direct injection V-6 engine that delivers 276-horsepower, what springs to mind? Maybe that's not enough. Let's add that the vehicle is also well-appointed, comfortable, spacious and quiet. With that much information, maybe you're thinking luxury sedan. Oh. I should mention it can tow up to 3,500 pounds and can provide up to 142.0 cubic feet of cargo space. No, it's not a truck. Give up? Check out the 2015 Kia Sedona in Houston. 
You can call it a minivan, but the Sedona scarcely resembles the bland passenger carriers of years past. Its more stylish appearance is evocative of today's crossovers. Kia's signature grille and the swept-back headlights give the Sedona a slightly predatory look that sets it apart from the competition.
A number of 2015 Kia Sedona reviews find the inviting and spacious interior offers comfort and an ambience bordering on elegance. It is evident Kia carries over the interior philosophy from its upscale sedans, incorporating materials like polished metal, wood grain and available Nappa leather.
Practical sensibilities also prevail. The Sedona is the only vehicle in its class to include fabric technology that provides anti-microbial protection from spills, anti-static protection from electric shocks and stain-repelling and stain-releasing characteristics.
The seats are comfortable and supportive. Soft-touch materials abound, and controls are positioned within easy reach for the driver. 2015 Kia Sedona reviews call its UVO infotainment system among the best in the industry, citing its smooth operation and clean user interface. It includes a wealth of helpful apps, including a few nice features aimed at keeping Sedona owners' teen drivers safe. Geo-fencing alerts parents via smartphone when the vehicle exceeds a predetermined distance from home. Speed alert notifies the parent when their teen is driving too fast. Curfew alert advises when your teen driver is out beyond agreed-upon times. 
With room for eight, storage galore, and a long list of standard and optional features, the 2015 Kia Sedona, for sale in Houston, is a compelling choice. Stop by Joe Myers Kia to see one for yourself.