Kia Dealer in Houston Reviews the New Soul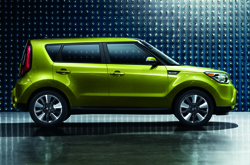 A lot of 2015 Kia Soul reviews use terms like "urban hip" or "funky" to describe it. Some automotive journalists don't seem to know what to make of it. The Soul is unlike most anything they've seen before. We look at the Soul as a multifunctional platform with an automotive component. Sure, it's an economical and practical little four-cylinder, but it's more than that. The Soul is designed to make your fun mobile.
Admit it, when you and your friends climb into your Dad's old clunker, the party has to be put on pause. His tinny feeble radio speaker is squawking news blather from some talk station, and that curvy little end-table you picked up at the flea market might gouge the upholstery he apparently had special-made from his old golf pants.
The Soul is a lifestyle statement that happens to include a cool hatchback. Whether you are crating cargo or packing peeps, the Soul provides a lot of useful interior space that doesn't disappear at shoulder-height, and that spunky little four cylinder means you won't have to hock your bling when you hit the pump.

Best of all, the Soul is built with the connected generation in mind, so it provides a seamless transition from party A to party B with tunes and tech. Standard equipment includes an awesome illuminated six-speaker audio system, satellite radio, Bluetooth and a USB port. The 2015 Kia Soul on sale in Houston offers a bounty of bodacious options that really put the "fun" in "functionality." 
And you know the Soul rolls safe. 2015 Kia Soul reviews note all models include six airbags and even the base Soul includes four-wheel disc brakes, while most of the posers include just drum brakes in back.

Is the Soul boxy or foxy? That's for you to decide. We would say the Soul squares up nicely against the competition, but we are not sure there is any.  You can keep reading our review below, or you can go score your 2015 Kia Soul in Houston right now at Joe Myers Kia.